Living On The Suncoast is our new name. It incorporates Living Out East & On The Bay.
Living on the Suncoast is a terrific way to reach local customers in print and online. We're now offering integrated packages to help you tell your story and join the conversation here online.
To learn more and get a free digital advertising consultation complete the form below. Also, don't forget to add your business listing to our directory where you can collect customer reviews - with the widget and Facebook app you can show off those reviews on your website or your Facebook page.
Don't have a Facebook page or need to get more out of it? We can help there too!
Who advertises in Living on the Suncoast?
Many of the finest companies in the region advertise in Living On The Suncoast year after year. Why? Because it works!
If your business targets the affluent residents and visitors in and around Lakewood Ranch, the many gated country clubs and the entire dynamic Sarasota and Manatee region, this is the best place to advertise.
Your business can plan its advertising to best reach your target audience.
Click here for the 2012 Media Guide
Build your business with strategic advertising

Audited and verified circulation of 30,600 monthly...367,200 ad impressions each year!
Larger circulation than ANY other magazine in Sarasota or Manatee. Bigger than Sarasota and Biz 941 together (!) and with lower rates than either one.
83,00 loyal and engaged readers.
Precision mailing to over 25,000 affluent homes each and every month
An incredible VIP mailing list that others only envy
Upscale Demographics-including the desirable baby boomers living out east.
Saturation of the prestigious and affluent I-75 Country Club Corridor (nobody else comes close, including the newspapers) and prestigious Sarasota communities.
Established editorial credibility and respect of readers.
Rates that make sense (and beat the competition handily)
* Free digital flip-page edition online that reaches well over 75,000 web visitors a year and is growing by leaps and bounds...more impressions for your ad!
Don't just take our word for it. Watch this video from the owner of 20 Minutes To Fitness.
Precision-Targeted Home Delivery
Living Out East & On The Bay Magazine's 30,600 circulation (83,000 readers) has not been arrived at haphazardly. It is a precision targeted monthly distribution system based on careful study of the market and consumer preferences in our local market. It does one thing and dos it well: reach the exact residents, visitors and snowbirds you want to target. Each component (direct mail to affluent households, carefully-targeted drops, high-tech multimedia and sponsorships and events) reinforces the others. Together, they target carry your advertising message to those you want to see month after month, season after season.
2012 Media Kit coming very soon. Click here to get your 2012 media kit as soon as it is ready.
THE LIVING ON THE SUNCOAST DIFFERENCE: Precision AUDITED Circulation of 30,600 per month
25,000 mailed copies to precisely the right affluent households in and out of gated communities out east to reach this highly-desirable demographic. The homes we target are in the area's finest communities. This ensures that your message hits just the homes with high-income consumers. Some communities like Lakewood Ranch and University Park Country Club are so affluent that we saturate them. As new affluent communities are built, they will automatically be targeted with Living Out East.
Braden Woods
Mote Ranch
Heritage Harbour
Lakewood Ranch
Panther Ridge
River Club
Mill Creek
University Park Country Club
The Founders Club
Laurel Oak
Saddle Creek
Palmer Ranch
The Oaks
Other select and affluent communities in Sarasota and Manatee Counties.
5,000 Copies are delivered by courier to high traffic businesses, hotels, professional offices, hospitals and Class A office buildings out east and in downtown Sarasota, Sarasota North of the Trail and downtown and NW Bradenton and the Islands. We allow you to reach visitors and the affluent and reinforce the mailed circulation.
Hundreds of copies mailed to a VIP list that others only envy. We reach the opinion leaders in government, business and the arts!
Our circulation numbers are even bigger than this! If you add the many thousands of individual unduplicated visitors to our web site each month and the copies of our digital edition that are mailed around the world by our readers, the numbers are truly staggering. Consider this a free bonus.
We verify and audit our circulation. We are the only magazine in the region that is part of the prestigious Community Magazine Association. They guarantee that our circulation numbers represent actual circulated copies of the magazine, not "readers affected" or "readership" or other inflated terms that some competing publications use to describe their circulation. We will be happy to supply proof of our circulation and print runs.
Value
Advertising in Living On The Suncoast is a tremendous value because people read it! They tell us they read and often keep each beautiful glossy issue because of the interesting articles, community calendars and great photography. As for rates, they speak for themselves. We have compared our rates per thousand circulation (the only way fair way to measure what you get for your advertising investment) to other area publications and we are far-and-above the market leaders.
2012 Media Kit. Please contact your sales representative or click here to get your 2012 media kit.
We also offer very advantageous rates on banner, Facebook and newsletter advertising. Please call!
Note: Living On The Suncoast rates include free full color in all advertising. There are no hidden extras.
Our Readers Are Engaged and Mobile Consumers
Based on on our latest reader survey, 55% of our readers are female, 97% keep the magazine after they read it and 67% have contacted an advertiser after they read about it in the magazine.
85% go to Sarasota to shop, 92% eat out there, 81% attend Sarasota cultural events and 67% get their healthcare there.
37% go to Tampa/St. Pete to shop, 33% go there to eat, 63% attend cultural attaractions there and 11% go there for healthcare.
Value Comparison

| | | | | |
| --- | --- | --- | --- | --- |
| Magazine | Circulation | Full Page Color Best Rate Annual Contract | CPM Cost Per Thousand) | Readers PER DOLLAR INVESTED see your ad |
| Living on the Suncoast | 30,600 | $1,695 | $56.50 | 49 |
| Sarasota | 21,000 | $3,500 | $166.66 | 16.2 |
| SRQ | 20,000 | $2,600 | $130 | 21 |
Be a Smart Advertising Consumer. Know what you are buying. Ask your ad sales representative for audited circulation figures. If they do not have them, ask for other proof of circulation and print run. If they do not supply them, ask why!
Demographics
Out east is a very affluent area. Based on the latest figures available, the household income is well over $100,000 in major out east communities like Lakewood Ranch, University Park Country Club and Laurel Oak..
The area is still growing despite the recession due to the influx of people seeking the expanding jobs and lifestyle amenities in the community. Scores of million-dollar-plus homes are being built in the area and are attracting buyers from around the nation as well as other parts of Florida. The average home value in a typical area like the Lakewood Ranch Country Club is still well over $750,000 in 2010 (latest figures). Young people are flocking here in droves and our school construction is barely keeping up.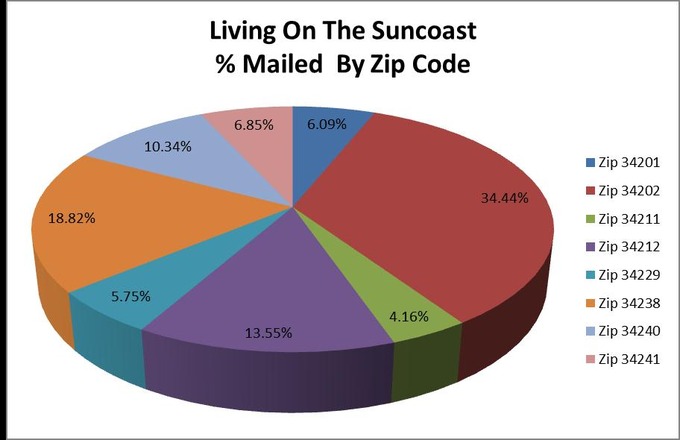 Form to submit